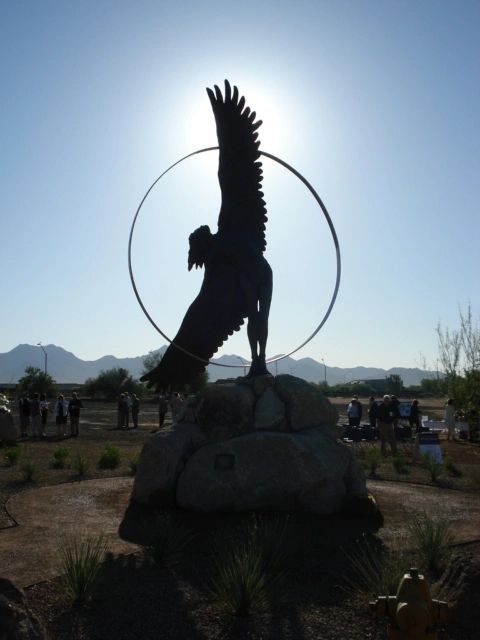 Welcome to the gateway into the Scottsdale Airpark. We are a foundation comprised of business owners, homeowners and commnity activists who by serving our community are inspired to give back.

Airpark Eagle Foundation (AEF), a 501-C3 non-profit foundation centered on improving neighborhoods through the Arts and Sonoran Native Desert beautification of land, is working to create a "garden like sanctuary" on the northeast corner of Scottsdale and Thunderbird Roads.
AEF's initial goal is to raise $350,000 through sponsorships and donations for the civic beautification of the approximately two acres of land that sit beyond the One with the Eagle sculpture located at he entry of the Scottsdale Airpark and airport. This beautification effort will assist in detering crime and enhance the City's land with Sonoran Native Desert landscape and hardscape known to the desert Southwest.
AEF's collective group of individual and corporate businesses formed a Board of Directors in which they will manage and oversee all community efforts and enhancements. The foundation is partnering with the City of Scottsdale, Scottsdale Center for the Performing Ars, Cultural Arts Counsel and neighboring businesses to create this sanctuary. In working with its partners, AEF is working to establish this area as the "Gateway to the Scottsdale Airpark."
"One with the Eagle is among Scottsdale's most iconic pieces of public art," said Scottsdale Mayor, Jim Lane. "It is wonderful to see the community working collaboratively to restore it to its rightful place in the public eye, and in an appropriately beautiful setting."

For additional information on Airpark Eagle Foundation, contact Laureen Leston, or visit www.airparkeaglefoundation.org.
For questions or comments please contact

Laureen Leston

602.918.8808

Laureen@LaureenLeston.com








Airpark Eagle Foundation
Scottsdale, AZ